We love our pets. They provide us with companionship, amusement, and love day in and day out. When it comes to moving, though, the pets we love may need some extra care. Keeping your fur babies safe is paramount – whether you're facing a local move or a long-distance move.
In this blog, we're offering some helpful tips for pets. We'll discuss how to help your pets adjust to a new home and provide a few smart tips to ensure their safety and well-being.
Let's dive in.
5 Ways to Help Pets Adjust to a New Home
It doesn't matter whether you're moving around the block or around the corner – these tips will help your pets stay safe and comfortable throughout:
1. Prepare your pet for the trip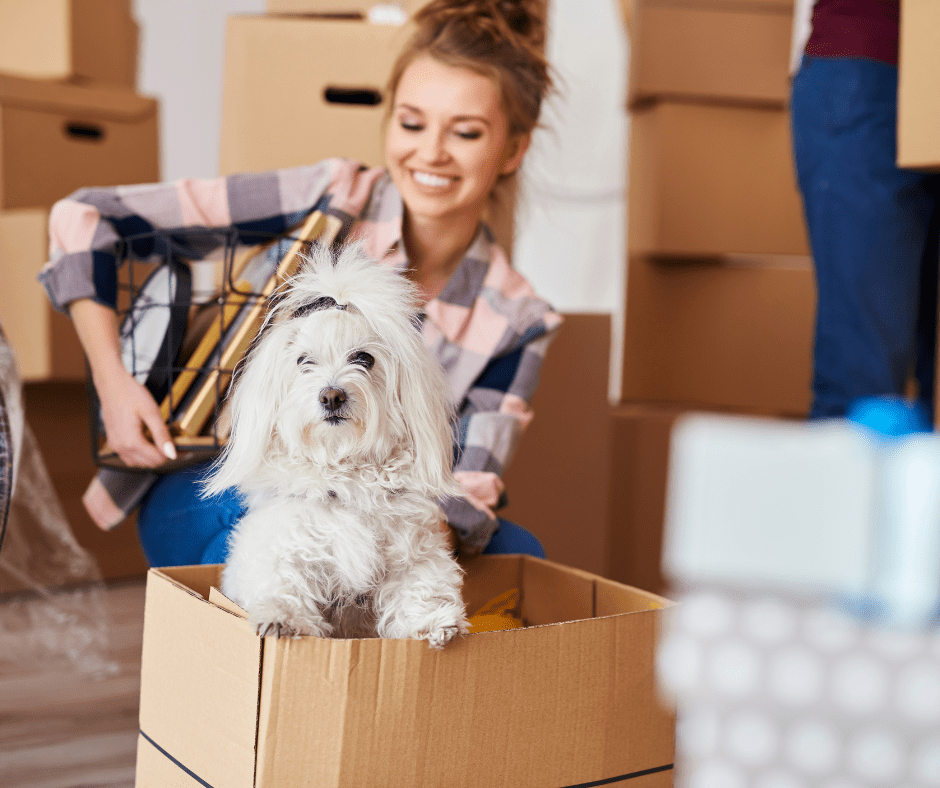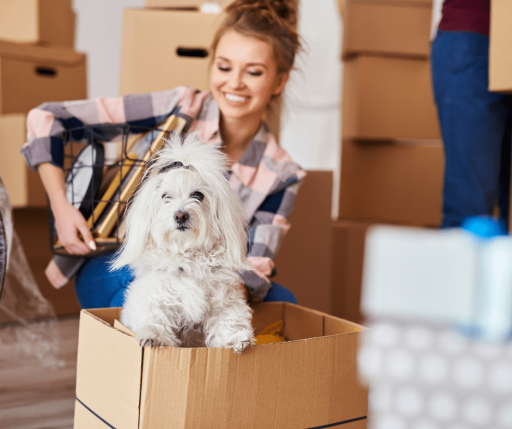 A successful adjustment to a new home begins before the move. With this in mind, take a few steps to prepare your pet for the transition to your new place:
Get a safe crate. Before moving day rolls around, invest in a safe crate that fits your pet. The crate should be sturdy, secure, and large enough for your pet to stand up, lie down, and turn around. If you're unsure which crate to buy, visit your local pet supply store for recommendations.

Condition your pet slowly. Instead of packing the house up all at once (which can seriously stress your pet), plan the move ahead of time and start packing rooms slowly – from the least-used to the most-used. This approach will allow your pet time to adjust and may help them avoid moving-related stress or shock.

Visit your vet. Before moving day rolls around, visit your vet to ensure your pet is up-to-date on vaccines and routine care. If your pet gets nervous during travel, consider asking your vet about calming medication to help them stay calm in the car.

Gather IDs and essential paperwork. Before you pack your pet and hit the road, ensure they have all the necessary identification and paperwork. Your pet should be wearing a well-fitted collar with ID and vaccination tags, their microchip information should be up-to-date (if applicable), and you should have copies of all their most recent vet records.
2. Pack your pet a bag
When moving day rolls around, don't forget about your fur babies! As you pack a "first-night" bag for yourself, be sure to do the same for your pet.
This bag should include your pet's food, bowls, medications, and favorite bed or toy. Having these items close at hand will help them feel more comfortable in your new home.
3. Pet-proof your new home
Before bringing your pet into your new home, ensure the entire space is pet-proofed. We know you know your pets best! Here are some things to consider doing to prepare:
Shut and lock all windows, or make sure they have sturdy, hole-free screens.

Check every inch of the backyard fence for cracks or gaps that pets could escape through.

Install gates as needed, both inside and out.

Add childproof latches to cabinets that contain medications, cleaning products, or other items that may be hazardous for your pets.

Check for and seal any small spaces inside the home. These include nooks and holes inside cabinets or behind appliances, like the washer and dryer.

Keep your pet on a leash or locked securely in a room as you or your movers move items into your new home. A stressed pet may bolt out of an open door and disappear. Or worse yet, get underfoot and cause injury or damage to either your goods, you, the movers, or the pets themselves.
These simple steps will help you mitigate hazards your pet could face in your new space.
4. Create a safe space for your pet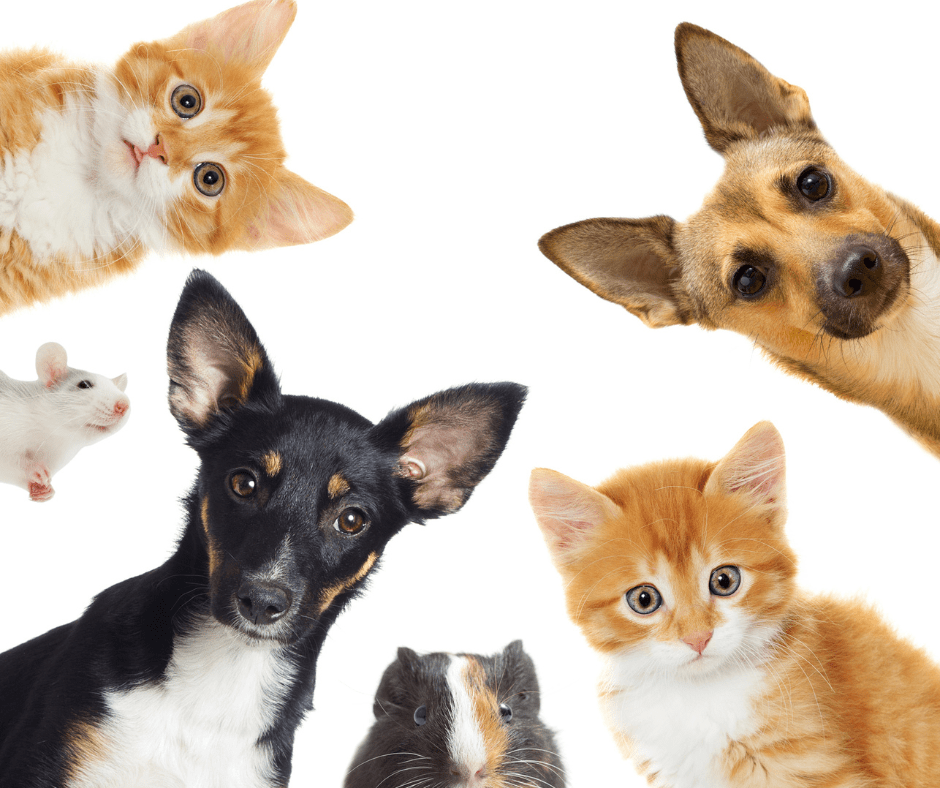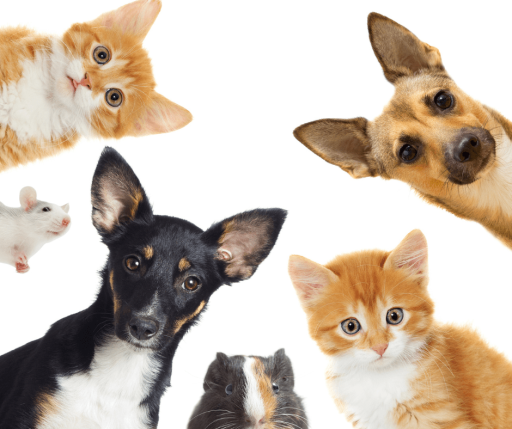 Few things are more overwhelming for a pet than bringing them inside and setting them loose in an entirely new space.
Instead, take baby steps by creating a safe room that your pet can explore first. We recommend choosing a small room with a door (a bedroom or office usually works) and placing your pet's bed, crate, toys, and food in the room. When you bring them into the home, take them into this safe room first.
The familiar items will provide comfort and give your pet a chance to get used to the smells and sounds of the new house step-by-step.
5. Make exploring safe
Once your pet has found its safe place in your new home, it's time to start getting to know your new neighborhood.
If you have a dog or outdoor cat, place them on a leash and visit pet-friendly areas of your neighborhood, such as parks and trails. Meet your neighbors slowly, and introduce your pet as the newest resident on the block.
Bonus Points: Find something fun to do with your pets
If you have an active dog that needs a job, scour your new neighborhood for fun things to do together. Agility classes, obedience courses, outdoor adventures, and canine clubs are all excellent options.
If you live near a pet-friendly beach, pond, or lake, consider taking your four-legged friend for a refreshing dip. There are all sorts of fun things to do with your pet! All you have to do is find the ones that suit your interests.
In addition to helping your four-legger settle into their new neighborhood, hopefully these fun activities are a great way to keep your pet's mind engaged and make sure they get plenty of activity, too.
Moving? We'll Help You AND Your Pets Adjust to a New Home
Moving is an exciting time for the human members of your family, but it can be stressful for pets. Fortunately, there are things you can do to make the move easier for your animals and cut down on the anxiety they may feel during a move.
Here at Master Movers, we're proud to be a pet-friendly moving company that loves animals. Our team of movers will brainstorm with you and your family to come up with ways to keep your pets safe and comfortable during the move.
Whether you're going around the block or across the country, our team of local and long distance movers will help you get there.
Ready to learn more? Contact us today.