Moving in today's world is not what it used to be. The COVID-19 pandemic, a hot and then cool real estate market, and peak moving season have made the process even more chaotic and complicated than it used to be. Fortunately, moving in today's world is still far from impossible.
In this blog, we're sharing a few of our top tips for a successful move, even in today's busy world.
Let's dive in.
7 Pro Tips for Moving in Today's World
Whether you're moving across the country or around the block, these seven tips will help you stay sane and organized.
1. Expect delays
We've all heard it: the world is short-staffed, and supply chain shortages are affecting everyone. Given these considerations, moving is a little more challenging than it used to be.
It can take longer to get your things than anticipated (especially if you're moving long-distance), so you should always have a Plan B.
Make sure to carry any necessary items with you, and choose a mover who will communicate openly and help you understand what you can expect.
2. Make sure you're prepared for the movers when they come
Streamline your move by preparing for "moving day" ahead of time. If you're moving long-distance, it's recommended to start prepping at least a week in advance. By the time the movers arrive, you should have packed and labeled all your boxes (if you're packing any items yourself) and separate out any necessary, high-value, or delicate items to a secure area. 
For local moves, we recommend packing a "first-night" box to carry with you so you'll have essentials like toiletries, medications, and a change of clothing nearby. With long-distance moves, be sure to keep items with you that you'll need even if the truck is delayed. Job attire, passports, or other important items.
3. Know where you can save some money
If you want to keep your local moving service budget in check, consider moving some of the small items yourself. Harder to pack items such as lamps, mirrors, wall art, plants, and TVs may travel well in a personal vehicle and can add up to some serious savings for you. Time is money, and money is time, and you'll have to pay your movers no matter what they're transporting. With this in mind, pack up your car and save some cash!
4. Plan which items you'll move
Planning for your new space when moving in today's world is one key to your success. The new space is not likely the same configuration, and your current layout may change considerably as the new rooms are shaped differently. Try to visualize, in your head and on paper, how the furniture will be placed, if there will be enough room around the furniture for walking, and have a backup plan should the room not come together as planned.
An estimate with your moving company (either in-person or via phone and email) will help for budgeting. Doing this allows you and the moving company to better understand what you're having moved and how much time to allow for the move. The more details you can give, the closer they can get to estimating time and charges. Remember, if they are doing this on the phone, they are not seeing tight doorways, longer walks, or steep driveways which can increase service time. Be sure and ask if there are any added fees not yet mentioned, and how the charges are calculated to avoid any confusion.
If you have items you don't want to move to your new home but aren't ready to part with; consider renting storage space. This will keep your things safe and protected until you need them again. Your movers might have storage options available, so ask while you have them on the line if you think this will be something you'll need.
5. Make a plan for your kids and pets
We love our kids and pets, but they can make the moving day harder.
Make other plans for pets and young kids to keep them and your movers safe and ensure the transition is as streamlined and stress-free as possible.
Pets can go to a boarding facility for a few days on either side of your move, for example, and kids can have a playdate at grandma's house or with the neighbor kids.
Making plans for kids and pets helps keep them safe and decreases stress levels for everyone in the house.
6. Schedule in advance
Movers are in high demand, and spring thru summer is the peak moving season. In fact, about 60% of all moves take place during the summer months. To make matters even more challenging, movers face the same staff shortages as everyone else.
With this in mind, ensure you've scheduled your move in advance. If you wait until the last minute, you'll have much more difficulty securing movers or getting your desired moving date.
We recommend leaving yourself at least 6-8 weeks to plan your move, or longer if possible. That being said, don't be afraid to reach out as soon as you have a date in mind, especially for local service. Most companies should try to help or refer you to a good alternative.
7. Be patient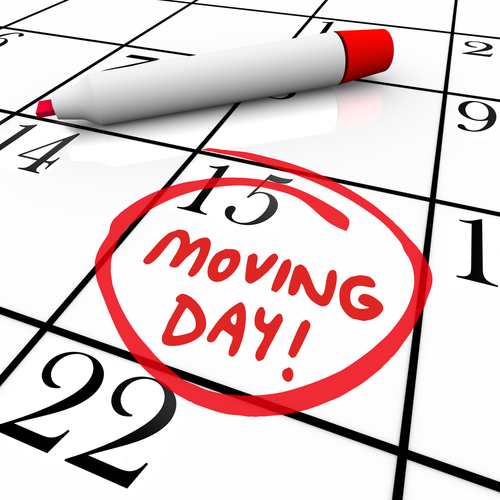 Before you settle on a moving company, be sure to do your research. Look at the moving company's reviews, make sure they're licensed and insured in your state, and review their services list to ensure they actually provide the moving services you need.
While it can be time-consuming to compare moving companies, a little due diligence on the front end can prevent a lot of trouble on the back end. Plus, it lays the foundation for a long-term relationship with a mover, which will come in handy if you find yourself moving again in the future.
If you're interested in working with our team and have questions about our services or offerings, give us a call. We're always happy to hear from potential customers and will take the time to answer all your questions!
Moving in Today's World: We're Here to Help
It's been a chaotic few years between the pandemic and everything else we've all faced. If you're planning to move this year, you might feel a little stressed by the prospect. Fortunately, you are not alone.
Here at Master Movers, our team will work with you to plan ahead for as much of your move as possible. Our full suite of moving services, from storage and packing to transport and more, will help you get from Point A to Point B easily and seamlessly, and without pulling your hair out in the process.
Ready to learn more about our team or services or how we can help you? Contact us today.