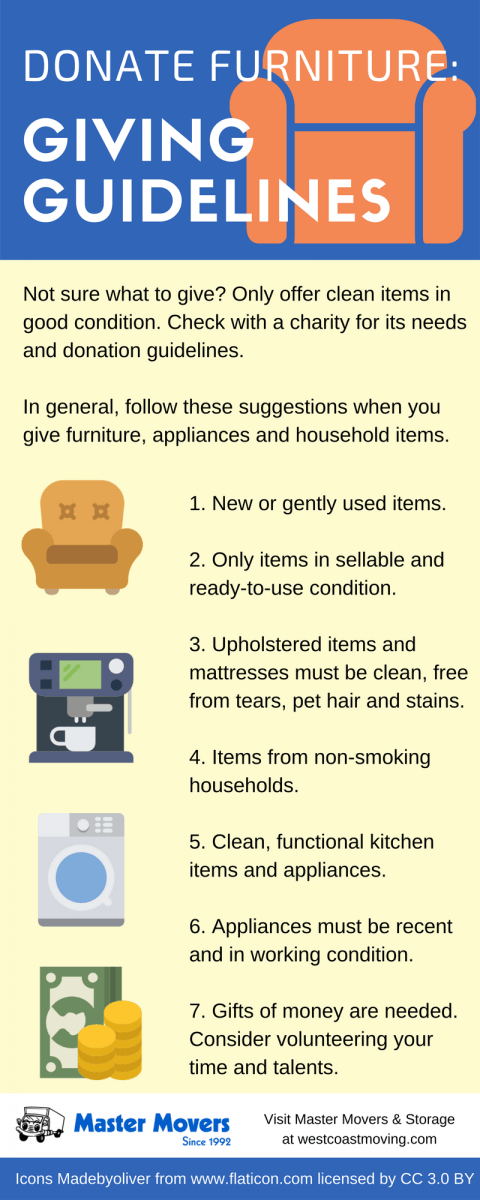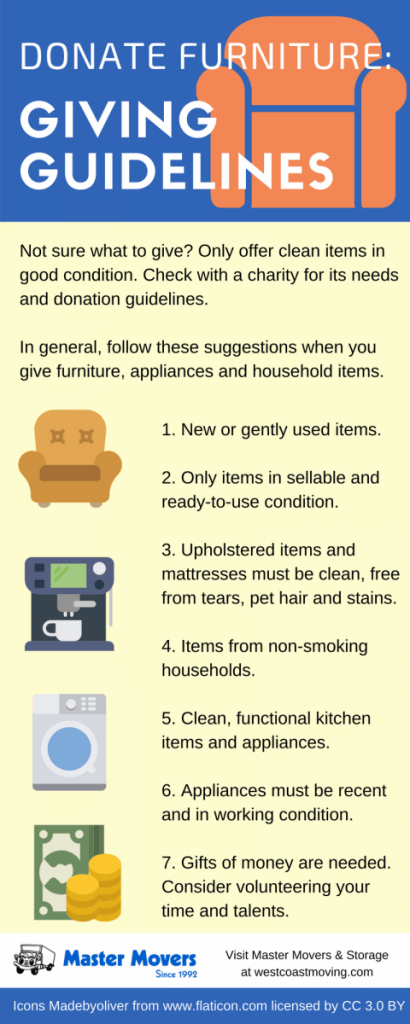 (Sorry, Master Movers does not accept or pick up donations.)
Where can you donate furniture in Portland? The city has many worthy charities where you can drop off used furniture, clothing, household items and even building materials. Some of these organizations offer pick-up service, free or for a small donation.
Packing for a move is the ideal time to take stock of your belongings, paring them down only those things you love or need.
When you declutter, you'll end up with a selection of furniture and household equipment you no longer want. If they're in good shape, someone else can use those things. When you donate furniture in Portland, it's gratifying to think your gift stays local.
Charities Where You Can Donate Furniture in Portland
Each of the following groups accepts donations of clothing, furniture and other household items. Contact the organizations for a more comprehensive list of what they need and can accept.
Lighten the Load and Save Money on Your Move
When you organize ahead of a relocation, the moving van is lighter. Your wallet will be heavier. Moving companies in Portland charge by weight. The cost of hiring a professional mover is lower when you lose excess baggage. Another perk of purging before a move: when you get to your new home, you'll have fewer items to unpack.
There's a hidden cost to clutter: you feel disorganized and burdened. You may feel out of control because you're not sure what you have. Perhaps you have enough furniture to open a second-hand store. Why not do yourself and your community a favor by donating things that still have years of live in them.
Donate Food, Too!
Wondering where to donate those last few items in your pantry? We do accept food donations. Master Movers supports Move for Hunger. Box or bag unopened, nonperishable food. We can't accept open packages. We'll pick up your donation when we visit for an estimate or a move. We take these donations to the Oregon Food Bank.
Once you lighten your load through decluttering and donating, you're ready to start packing. Give us a call. We can help you make the rest of the moving process easy and stress-free.
Updated Feb. 2, 2016. Originally published Nov. 6, 2016.
Icons made by Madebyoliver from www.flaticon.com is licensed by CC 3.0 BY